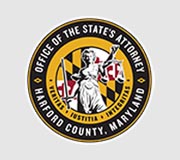 Albert J. Peisinger, Jr., State's Attorney for Harford County, announced today the conviction of Robert Welborn, 51, Harford County, Maryland, for assault in the second degree.
On August 17, 2019, deputies of the Harford County Sheriff's Office responded to the Cavalier Motel for a report of a domestic dispute that involved the suspect choking the victim. After investigation, the defendant was charged with assault in the second degree, which carries a maximum sentence of ten years and/or a $2500 fine.
Welborn was convicted on October 17, 2019 following a court trial and sentenced to six (6) years of incarceration. The presiding judge was the Honorable Kerwin A. Miller, District Court for Harford County. The case was prosecuted by Assistant State's Attorney Cyndi Adkins.
Mr. Peisinger commended the Harford County Sheriff's Office and their Domestic Violence Unit detectives for their meticulous work on this matter and in all cases that help bring about justice to victims of Domestic Violence.