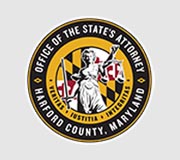 Albert J. Peisinger, Jr., State's Attorney for Harford County, announced today the sentencing of Robert Parks, Sr., 58 years old from Bel Air, Maryland, for rape in the second degree.
On October 22, 2017 the Victim and defendant were at the home of a mutual friend of the Victim and defendant. The Victim and defendant did not know each other but attending the mutual friend's birthday party. Since she lived out of state, the Victim elected to spend the night at the mutual friend's house. While she was sleeping, the defendant came into her room and sexually assaulted her.
Parks was convicted by a jury on May 13, 2019. The presiding judge was the Honorable M. Elizabeth Bowen, Circuit Court for Harford County. Assistant State's Attorney Angela Diehl prosecuted the case. Judge Bowen sentenced the Defendant to 20 years suspend all but 8 years and 5 years of supervised probation upon his release. The Defendant will have to register as a sexual offender for life.