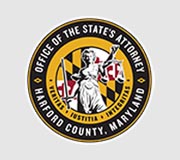 (Bel Air, Maryland) – Albert J. Peisinger, Jr., State's Attorney for Harford County, has announced that last night, a Harford County jury found Joseph Daniel Parrish, 27, from Aberdeen, Maryland, guilty of murder in the first degree, witness retaliation and use of a firearm during the commission of a felony.
The case began on November 11, 2018, when officers of the Havre de Grace Police Department responded to the 200 block of North Washington Street in Havre de Grace, Maryland following a report of an individual suffering from a laceration. Upon arrival, officers discovered that the victim, 61 year-old Jeffrey Coudon, had sustained gunshot wounds. Despite immediate life-saving efforts and transport of Mr. Coudon to the University of Maryland Shock Trauma, he succumbed from his injuries three days later on November 14, 2018.
Following an extensive investigation, two individuals, Robert Lee Zeman, III, 33, from Havre de Grace, Maryland and Mr. Parrish were identified and arrested in April of 2019. Mr. Zeman was charged with being an accessory to the murder. His trial is scheduled to begin in February, 2020. Sentencing for Mr. Parrish was set for January 30, 2020.
In expressing condolences to the family of Mr. Coudon, Harford County State's Attorney Albert J. Peisinger, Jr, stated, "The Citizens of Harford County delivered justice for Jeffrey Coudon and I hope is that this verdict provides a measure of solace to the victim's family."
Mr. Peisinger further thanked the jurors who deliberated the case. He also thanked Assistant State's Attorneys Timothy Doory and Gabriella Vazzana and the Havre de Grace Police Department for their joint effort that resulted in the arrest and conviction of Mr. Parrish.