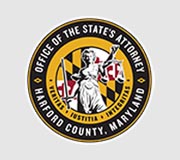 (Bel Air, Maryland) – Albert J. Peisinger, Jr., State's Attorney for Harford County, has announced the conviction of James Lee Walker, Jr., 27, Edgewood, Maryland, for possession with the intent to distribute cocaine.
Walker was convicted on January 27, 2020 by way of a guilty plea following the Court's denial of Defendant's motion to suppress evidence. The case began on January 31, 2018 when a deputy of the Harford County Sheriff's Office observed Walker entering and then quickly leaving a motel room in the Edgewood area that was already under surveillance for drug activity. As this deputy made contact to investigate this activity further, Walker quickly walked to his vehicle before finally submitting to demands to stop. A subsequent search of Mr. Walker revealed 21 bags containing over 25 grams of cocaine, as well as 75 empty baggies, all concealed in his underwear.
The Honorable Angela M. Eaves imposed a total sentence of 20 years suspend all but 15 years incarceration to be served at the Division of Corrections. The Defendant will be on five (5) years of supervised probation when he is released.
Mr. Peisinger thanked Assistant State's Attorney Jason Allen who prosecuted this matter and commends the Harford County Sheriff's Office and the Maryland State Police Forensic Science Division for their hard work and dedication in conducting the investigation that resulted in the arrest and conviction of Walker.