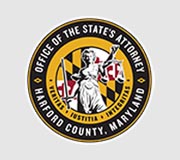 DATE: May 28, 2021
RE: Conviction of Wardell Walton
(Bel Air, Maryland) – Albert J. Peisinger, Jr., State's Attorney for Harford County, has announced the conviction of Wardell Walton, 34, Aberdeen, Maryland, for robbery.
Walton was convicted on April 26, 2021 by way of a guilty plea. The case began when on October 2, 2020, Aberdeen Police Officers responded to a group home and met with the victim who reported that he opened his door to walk to the communal bathroom where he was confronted by Wardell Walton. Walton then forced the victim back into his apartment, punching and striking him repeatedly in the face. Walton attempted to grab the victim's wallet from his pants, knocking him to the bed, biting his hand, and ripping his pocket. Walton fled with the victim's wallet, containing $4,700 in cash.
The Honorable Yolanda L. Curtin imposed a total sentence of 15 years suspend all but 8 years incarceration to be served at the Division of Corrections. The Defendant will be on three (3) years of supervised probation when he is released.
Mr. Peisinger thanked Assistant State's Attorney Jason Allen who prosecuted this matter and commended the Aberdeen Police Department for their hard work and dedication in conducting the investigation that resulted in the arrest and conviction of Walton.