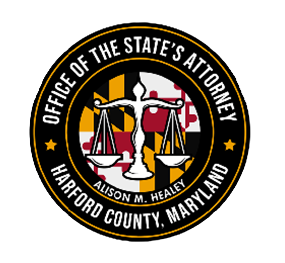 Jabreel Avion Samuels, 31, of Middle River, Maryland was sentenced to 12 years' incarceration on June 26, 2023, for Illegal Possession of a Firearm and Possession with Intent to Distribute Cocaine following a guilty plea in the Circuit Court for Harford County.
On June 16, 2022, at 8:31 p.m., Deputy Dahler of the Harford County Sheriff's Office observed a vehicle being operated by Samuels without a front license plate on Route 24 prior to Hanson Road in Edgewood. Deputy Dahler followed Samuels and requested additional Deputies believing Samuels was attempting to elude him. Samuels drove around another vehicle and side-swiped it while turning onto Rosewood Drive. Samuels then fled on foot throwing an object over the roof of a house in the 600 Block of Hornbeam Road. After a foot pursuit through woods and over a fence, Samuels initially complied by lying down on the ground and placing his hands behind his back before fleeing on foot again. Deputy Dahler grabbed Samuels' shirt, and Samuels attempted to push him. Deputy Dahler tased Samuels and successfully placed him under arrest.
A loaded Polymer 80 "Ghost Gun" was located from a resident's porch where Samuels threw the unknown object. In addition, Senior Deputy Sampson recovered approximately 9 grams of crack cocaine and packaging material from the vehicle Samuels abandoned.
Pursuant to a plea agreement, Samuels was sentenced by the Honorable Maurice W. Baldwin, Jr., to 15 years suspending all but 5 years on the Firearms count. The first 5 years of the sentence is mandatory and without the possibility of parole. Samuels was also sentenced to an additional consecutive 20 years suspending all but 7 years to serve on the drug count. The sentence is nearly double Samuels' Maryland Sentencing Guidelines for those offenses.
State's Attorney Alison M. Healey said following the plea: "Illegal possession of guns by those who are prohibited due to prior criminal convictions will always be a priority in my office, and we will always recommend significant sentences for those offenders. Deputy Dahler exemplified the value of pro-active policing in this case and is commended for pursuing a fleeing, armed subject. Mr. Samuels has previously been identified as a gang member and removing him from our community sends a strong message that these
criminals have no place in Harford County."
Ms. Healey thanks Deputy State's Attorney David W. Ryden for structuring a strong plea agreement in this case and Deputy Dahler for his work leading to Samuels' arrest and the removal of an illegal firearm from a dangerous offender and the streets of our community.