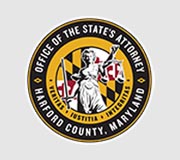 DATE: May 28, 2021
RE: Conviction of Steven Gross
(Bel Air, Maryland) – Albert J. Peisinger, Jr., State's Attorney for Harford County, has announced the conviction of Steven Gross, 49 of Abingdon, Maryland, for sex abuse of a minor.
Gross was convicted on May 10, 2021 by way of a plea. The case began during the summer of 2020 when the victim, who is now an adult, went to the Maryland State Police Barracks to report that she suffered past child sex abuse by Steven Gross. The victim detailed that Mr. Gross started sexually abusing her when she was six years of age and continued for several years. He threatened her on regular basis should she should ever disclose what he was doing. It wasn't until the victim reached adulthood that she felt safe and disclosed.
The Honorable Kevin J. Mahoney imposed a total sentence of 25 years suspend all but 10 years incarceration to be served at the Division of Corrections. The Defendant will be on five (5) years of supervised probation when he is released and will submit to lifetime sex offender registration.
Mr. Peisinger thanked Assistant State's Attorney Christopher Tabone who prosecuted this matter and commended the Maryland State Police and all partners of Harford County Child Advocacy Center for their hard work and dedication in conducting the investigation that resulted in the arrest and conviction of Gross.