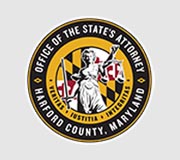 DATE: November 17, 2020
RE: Sentencing of Naeshawn Perry
(Bel Air, Maryland) – Albert J. Peisinger, Jr., State's Attorney for Harford County, announced today the sentencing of Naeshawn Perry, 19, of Havre de Grace, Maryland for murder in the first degree.
On August 9, 2017, the victim, 15 year old Maleigha Solonka, was reported missing. One week later, on August 16, 2017, Maleigha's body was found in a trash can that was located in a wooded area behind a church on Webb Lane in Havre de Grace, Maryland. An autopsy revealed the cause of death to be asphyxiation. Detectives of the Havre de Grace Police Department conducted an extensive investigation including interviewing Mr. Perry and executing multiple search and seizure warrants. Mr. Perry was charged with murdering Maleigha Solonka after a DNA analysis was conducted on multiple items that were recovered during the investigation.
Mr. Perry pled guilty in the Circuit Court for Harford County before the Honorable Paul W. Ishak on March 10, 2020. The case was prosecuted by Assistant State's Attorney Dair Pillai.
The sentencing hearing occurred on November 17, 2020 before the Honorable Paul W. Ishak. Numerous friends and family of the victim, Maleigha Solonka, attended the hearing and the Court heard several statements describing Ms. Solonka's life and the impact this murder had on them and on the community. The Court sentenced Mr. Perry to a life sentence suspend all but 20 years, to be served at the Division of Corrections.
The Office of the State's Attorney for Harford County sends its deepest condolences to the victim's family for the unimaginable, tragic loss they have suffered.