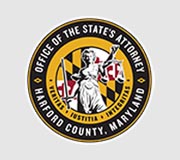 (Bel Air, Maryland) – Albert J. Peisinger, Jr., State's Attorney for Harford County, announced the sentencing of Aubri Pluhar, 25, Bel Air, Maryland, for murder in the second degree.
On July 20, 2017, officers of the Havre de Grace Police Department were dispatched to 804 Lafayette Street in Havre de Grace, Maryland. Upon arrival, officers discovered that the victim, 20 year old Andrew Pizanis, had suffered from a severe stab wound to his abdomen area. Despite immediate life-saving efforts, Mr. Pizanis died from his injuries the same day. Neighbors had overheard the couple arguing in the very early morning hours. Following an interview with police, Aubri Pluhar was then charged with murdering her boyfriend, Mr. Pizanis.
Ms. Pluhar pled in the Circuit Court for Harford County before the Honorable Paul W. Ishak on December 10, 2019. The case was prosecuted by Assistant State's Attorney Dair Pillai.
The sentencing hearing occurred on January 31, 2020 before the Honorable Paul W. Ishak. Numerous friends and family of the victim, Andrew Pizanis, attended the hearing and the Court heard several statements describing the impact this murder had on them and on the community. The Court sentenced Ms. Pluhar to 30 years suspend all but 20 years of incarceration, to be served at the Division of Corrections. The Office of the State's Attorney for Harford County expresses its deepest sympathy and condolences to Andrew's family and friends for their unimaginable loss.