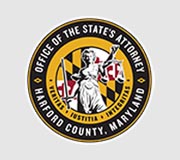 Albert J. Peisinger, Jr., State's Attorney for Harford County, announced today the conviction of Kyla
Royster, 24, Edgewood, Maryland, for first degree assault.
On June 7, 2020, deputies of the Harford County Sheriff's Office were dispatched to Deerwood Court,
Edgewood, Maryland. Upon arrival, deputies found a woman bleeding from slash wounds to her neck and face
and a stab wound to her abdomen. Before being transported to Shock Trauma, the woman identified her
assailant as "K." Deputies met with her again at the hospital, where she was able to identify a photograph of
Kyla Royster as the woman who assaulted her. Deputies obtained a warrant and arrested Kyla Royster when
she was found the following day.
On February 5, 2020, Kyla Royster admitted her guilt at a hearing before the Honorable M. Elizabeth
Bowen. In exchange for her guilty plea, Judge Bowen sentenced her to twenty-five years, suspend all but ten
years to serve, to be followed by five years of probation. The case was prosecuted by Assistant State's Attorney
Jason I. Allen.
Mr. Peisinger thanked the Harford County Sheriff's Office, emergency response personnel, and the
University of Maryland Medical System for their outstanding work and dedication in conducting the
investigation that resulted in the conviction of Ms. Royster.