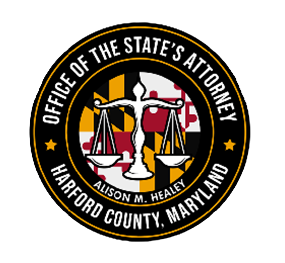 Percell Holland, 42, of Edgewood, Maryland was sentenced to 12 years of incarceration on July 11, 2023, for Possession of a Firearm in a Drug Trafficking Crime, Possession with Intent to Distribute Cocaine, and Illegal Possession of a Regulated Firearm following a guilty plea in the Circuit Court for Harford County.
On May 7, 2019, Senior Deputy Dean and members of the Harford County Sheriff's Office's Crime Suppression Unit were conducting surveillance of Holland and his residence in the 3100 block of Sweetbay Drive in Edgewood. Deputies observed what appeared to be drug transactions taking place at Edgewood Plaza and in the 2100 block of Pulaski Highway. Deputy First Class Ross conducted a traffic stop on Holland's vehicle detecting the odor of marijuana. A search warrant was executed at Holland's residence, and Deputy First Class Battee located a bookbag in a shed on the property with a loaded Keltec 9mm handgun, a loaded Taurus .40 caliber handgun, a loaded Smith & Wesson .40 caliber handgun, a digital scale, approximately five grams of cocaine, less than one gram of a heroin/fentanyl mixture, six suboxone strips, and two prescription bottles with Holland's name. An unmarked pill bottle with 33 Xanax pills was found in the shed, and $4,205 in currency was located inside the residence where Holland stayed in the basement. Holland is prohibited from possessing regulated firearms due to a prior conviction for Fourth degree Burglary.
Pursuant to the plea agreement, Holland was sentenced by the Honorable Yolanda L. Curtin to a total of 40 years suspending all but 12 years to serve. The sentence structure gave Holland 20 years suspending all but 5 years for the Possession of a Firearm in a Drug Trafficking crime to be served without the possibility of parole, and a consecutive 20 years suspending all but 7 years for Possession with Intent to Distribute Cocaine. Holland was also sentenced to a 5-year concurrent sentence for illegal possession of a regulated firearm. The firearms and $4,205 were forfeited as part of the plea. Upon release, Holland will be on supervised probation.
Ms. Healey thanks Deputy State's Attorney David Ryden and Assistant State's Attorney Jason Allen for prosecuting the case. "Our office remains consistent in our message to drug dealers that we will not tolerate drug distribution in Harford County, and if you are caught spreading this poison in our communities, you will receive substantial incarceration. I especially thank Senior Deputy Dean, Deputies Ross and Battee, and the Crime Suppression Unit for their investigation to rid our community of these illegal guns and for their interruption of this drug activity as a result of their strong police work. Their seizure of these guns and dangerous drugs very well may have saved a life."